I picked this dress up one afternoon when I was desperate for something to wear to dinner with my boyfriend's parents that night. It was before we lived together and I wasn't going to have time to go back to my house before we'd be meeting them, so I ran out on my lunch break to find something. Store after store turned up nothing I'd want to spend money on, but lo and behold, crammed in amongst the post-season prom dresses on the clearance rack at Macy's was this cute little thing.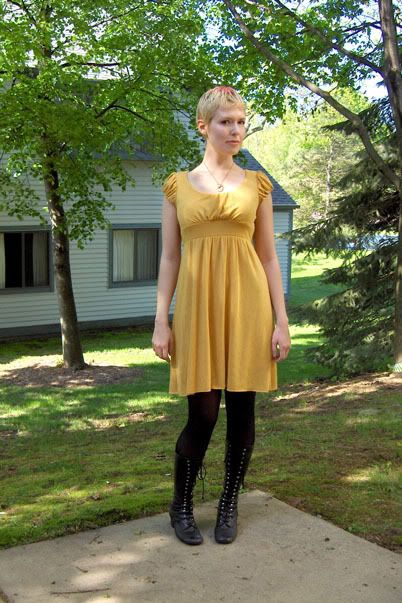 It tickled my fancy because the ruching on the bust and the little cap sleeves made it similar enough to the dress in this photograph of Edie Sedgwick posing with the Velvet Underground, which I'd been searching for for

ages

. You'd think that as soon as babydoll dresses became popular again, it would have been easy to find something just like this, but it took quite a while!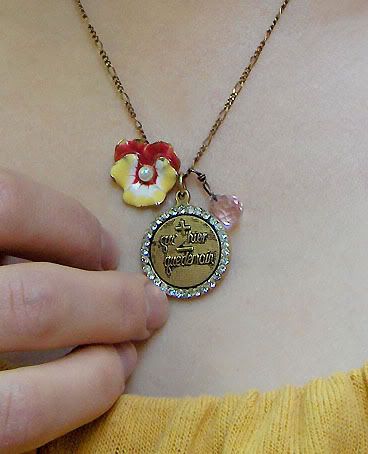 This pendant says "Qui hier, que demain," a French phrase that, I must admit, perplexes me. I don't speak a word of French, but according to Google Translator, in English it literally translates to "Which yesterday, that tomorrow." It would seem that this could be more conventionally understood "As it was yesterday, so it will be tomorrow," an expression of steadfastness. Except there are also a plus and a minus sign embedded into the phrase! Does this add meaning? Is it "More that was yesterday, less which is tomorrow?" Or do the mathematical symbols have a separate meaning that's not inserted into the phrase, maybe implying balance? Or are they just there to look nice? The mystery haunts me.