Picking the first outfit to post on a style blog is sort of intimidating, as if this first impression is supposed to supply all the explosively obvious evidence that my badass style is worth anyone looking at.

But I guess that's pretty silly. Not least because anybody who notices my little blog will probably do so at some point in the future, when this initial post is sitting below seemingly limitless miles of scrolling at the bottom of the archive. Anyway, I hope I can offer a perspective on fashion that somebody out there might find worthwhile. There aren't a huge number of style blogs that represent the cross section of highly-style minded, budgetary-restricted, and not-particularly-cosmopolitan Midwestern American, but maybe I haven't been looking hard enough. Either way, for post number one, I'd like to think I went for safe but chic.
Taking a cue from Renna at Only Shallow and arbitrarily looking away from the camera. It really does make it easier.


Suzuki T-Shirt: Vintage via the Getup
Skirt: American Apparel
Tights: DKNY
Shoes: Urban Outfitters
Purse: Thrifted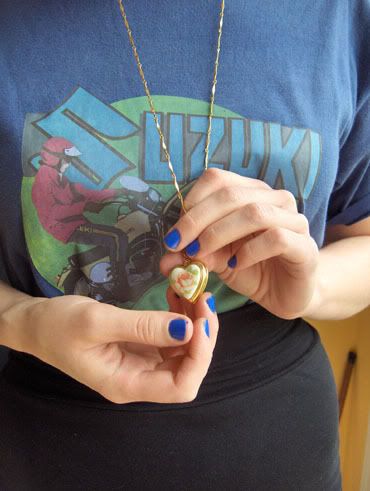 Locket: Vintage
Nail Polish: Sephora


I love jewelry with pictures on it.