Coolness is a delicate issue. No adult in their right mind would admit to

wanting

to be cool. But then, there's nothing less cool than

trying

to be cool, right? It's a clear criticism to say somebody's "trying too hard," and it can even be a veiled insult to call someone a "hipster," since the word connotes the choice to govern your life based on what's hip and popular -- implying effort.

It becomes this tenuous idea, requiring rhetorical gymnastics to get around it. The ultimate cool is effortless, so no one would anyone ever confess to striving for it -- even though prestige is, by definition desirable. At its worst, this brain-smooshinging Catch 22 will result in that stupid phenomenon where people construe coolness as total apathy -- kids who achieve their status by constantly acting bored, fearful of ever showing real enthusiasm. At its not-so-worst, this semantic barn dance makes me puzzle for a minute over this 80's Minnie Mouse sweatshirt.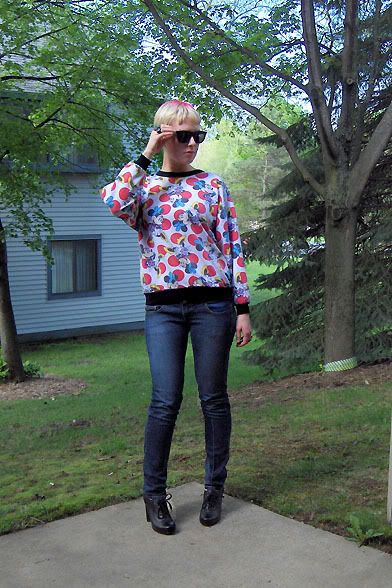 Minnie top: Vintage via Star Vintage
Shoes: Jeffrey Campbell via UO
Sunglasses: Thrifted
Rings: Various