This dress is a little slinky I guess, but with the exception of certain rude and cultureless girls with orangy tans and rolled down booty shorts, I tend to feel that most accusations of clothing being "risque" or "slutty" are remnants of Puritanism. I also have a bias for scoop-neck dresses.
Dress: Tag got mangled so I can't tell via Marshall's
Belt: Pepe via Marshall's
Shoes: Thrifted
Sunglasses: Thrifted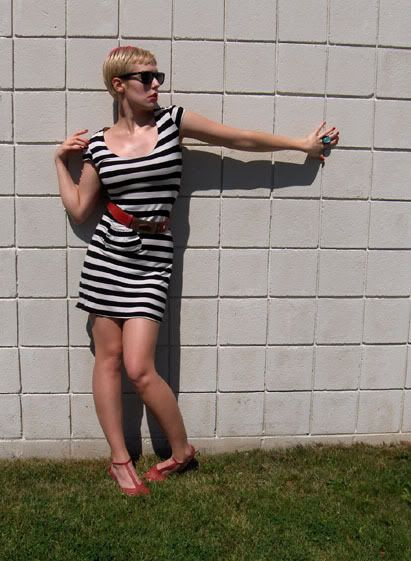 Red belt, red shoes, red lips. This is Lip Indulgence lip gloss by Lola in Sangria. For a gal like me with super pale skin, I find it's the best shade for when I want my pucker to be crimson -- the hints of orange in many reds will make me look like some kind of awkward public-access tv host. The downside is that the texture of this gloss is kind of weak; it spreads unevenly so you have to fix it in a mirror.