About a thousand years ago, the lovely
Lucrecia from Fashion is Poison and Dotti from Dotti' Dots both tagged me for two awesome memes. Thanks to both of these lovely ladies for thinking of me!

5 Things Meme from
Lucrecia:
5 Things found in my purse:

1. Giant wallet/clutch thing containing wallet, keys, and cell phone.
2. Makeup bag containing three-tiered mini pallette and a ton of random lipsticks and what not.
3. LeSportsac pouch containing Advil, allergy medicine, tissues, ear plugs, hand sanitizer, mini bug spray, etc.
4. Whatever book I'm presently reading.
5. Sunglasses.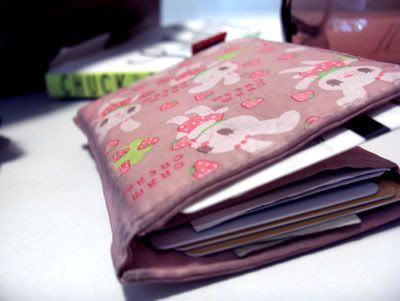 5 Things found in my wallet:
1. Driver's License.
2. Check card.
3. Random pick-up tags from cobbler, tailor, etc.
4. Office key card/ID featuring embarrassing, dated picture.
5. Annoying, bulky insurance cards.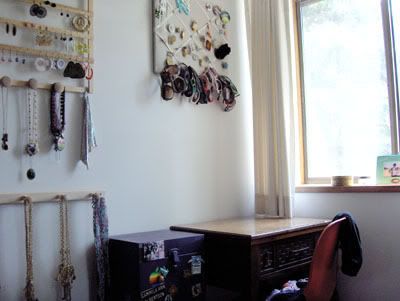 5 Favorite things in my room:


1. French bulletin board holding my brooches and sunglasses.
2. Sewing machine.
3. Hooks for earrings and necklaces.
4. Repurposed 1930's metal locker housing pretties and sundries.
5. Chest full of socks and underwear and pajamas.

5 Things I've always wanted to do:
1. Run a farm or ranch as a refuge for animals in need.
2. Have reams of impossibly long, thick, healthy hair.
3. Learn and retain all the countless facts and stories known by my dad, who's a historian.
4. Sing with my band in front of an unreasonably large crowd.
5. Make my living as a writer.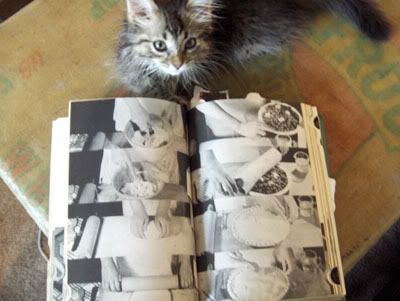 5. Things I'm currently into:
1. My 1949 Culinary Arts Institute Encyclopedic Cookbook.
2. Baking cakes.
3. Remembering to paint my nails.
4. My iPhone
5. My cats
5 impressions of my tagger:
1. She
mixes dressy and casual perfectly.
2. Is super creative.
3. Appreciates a good pair of moon boots.
4. Has enviously great hair.
5. Has excellent taste in beauty products.

Book Meme from Dotti:

Instructions: Grab the nearest book, turn to page 123, and transcribe the 5th, 6th, 7th, and 8th sentences.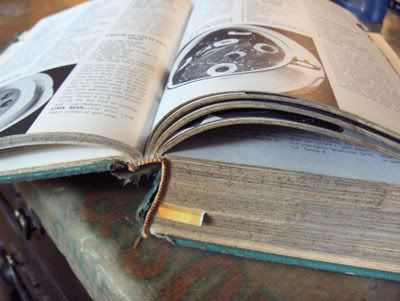 The nearest book is that vintage cookbook. Here goes: "Pour into bouillon cups and chill until firm. Just before serving draw a fork through the jelly to break it up. Place a slice of egg in each cup. Garnish with lemon wedges, catchup or horse-radish."

It's pretty crazy that just 60 years ago, people were eating savory jello. Anyway, as usual I'm too shy to tag, but they're fun memes, and I'll edit this post to tag you if you want!