The only trouble with vintage dresses is that, even in the age of Ebay, it can be tough finding one in the exact style you want -- let alone in your size. That's where the talented ladies behind reproduction and vintage-style labels like Stop Staring come in, taking authentic vintage fabrics, patterns, and styles and making gorgeous clothes for modern shoppers.

This dress, however, is not from Stop Staring. It's from a similar line called Lilli Jean -- but unfortunately, they appear to have gone out of business! It's a shame too. This dress is beautiful, comfortable, and well made.

Dress: Lilli Jean
Shoes: Target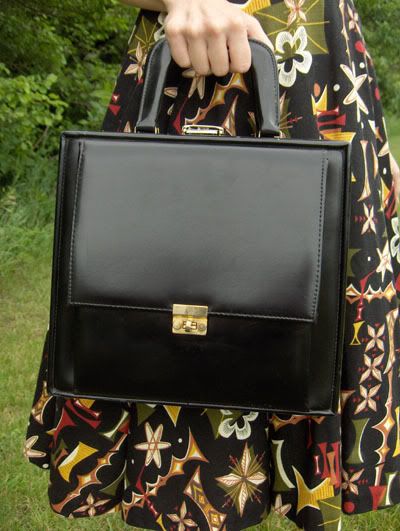 I really adore this vintage case from the Getup. It's Elizabeth Arden brand and was designed to carry makeup (evidenced by the fact that it still smells of talc!), but it reminds me wonderfully of Grace Kelly's Marc Cross overnight case in Rear Window.