It is with deep grief that I inform you of the death of my beloved Freddie Mercury Edition Asus Eee PC laptop.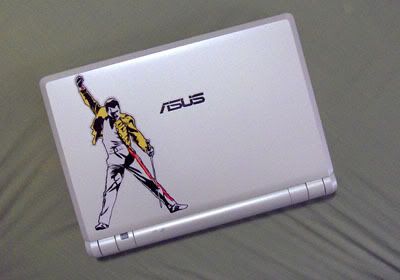 Okay, it wasn't actually "Freddie Mercury Edition," but my favorite Freddie sticker looked so perfect on it, you could have sworn it came that way.
Anyway, last week I managed to crack the LCD with a swift act of clumsiness, so the dear netbook that so dutifully connected me to the internets is gone. Luckily, I was able to quickly replace it with a new Asus model.
The only minor drawback was that it only came in glossy black, so the white background of my prized Freddie sticker would hardly blend in. As you can see, I found a new Freddie image to better compliment my new partner in computing crime.
Besides, glossy black goes with my Minnie Mouse ears. And everyone knows that blogging is best done in a nightgown and pair of cartoon mouse ears. Right?