Well, I did it. I killed another laptop. The last two have been netbooks, to be exact, but I slaughtered them all just the same. This time I had help -- I first got water on the keyboard and totally destroyed half of the number keys, then MC caught the chord in the vacuum cleaner and sent the whole thing crashing screen-first into the metal backing of a chair, shattering the LCD. So another laptop bites the dust, and we just got a new one. Again.
In honor of this changing of the guard, here's a retrospective on all the laptops I've gone through in my blogging history.
Apple Powerbook: 2003-2007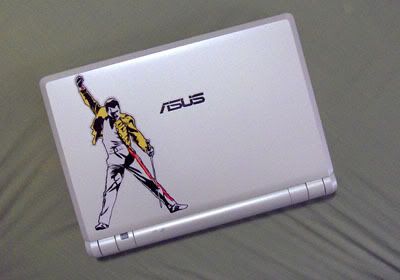 Asus Eee PC #1: 2007-2009
Asus Eee PC #2: 2009-2011
And here's our new baby: an ASUS K series notebook fresh from
Newegg
.
(Asus is the ONLY brand of laptop left who manufacture all their own hardware -- including Apple.)
In addition to the notebook, I also got something else that will probably come in handy: an accidental damage policy. ;)